Sample | Guatemala Ceiba | A-4639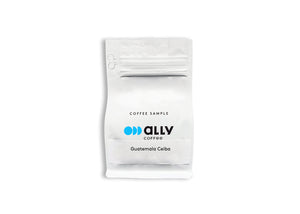 Product image 1
Product image 2
Product image 3
Product image 4
Product image 5
Product image 6
Tasting Notes: Cherry, Apricot, Creamy, Chocolate
Process: Washed
Variety: Caturra, Bourbon, Typica, Catuai, Catimor, Sarchimor, Pache, Pacamara
---
This Washed process Core Coffee offering comes from smalholder producers in the Huehuetenango region of Guatemala. 
Please select either a 200 g Green Sample or a 100 g Roasted Sample of this coffee. Roasted Samples weigh 100 g prior to roasting, and will weigh approximately 85 g when shipped. For more details about the farm, or to purchase full 50 lb boxes of this coffee, visit the full product listing.
View all current sample offerings in our Samples Collection.