Honduras San Isidro Anaerobic Red Honey | 25 lb | A-4176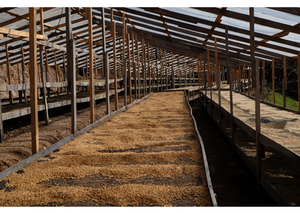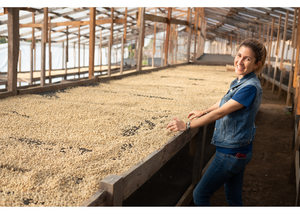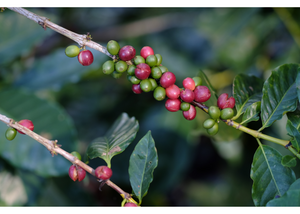 Product image 1
Product image 2
Product image 3

Product image 4

Product image 5

Product image 6

Product image 7

This coffee is eligible for our Buy Two Get One Free promotion.

SPECIAL PRICING! This Anaerobic Red Honey processed, woman-produced single producer coffee is from the 2021/22 harvest year and is showing less vibrancy in the cup as it has rested over time. San Isidro Anerobic Red Honey currently offers a sweet cup profile featuring chocolate fudge brownie, roasted nuts, and honeysuckle, making it a wonderful option as either a rich blend component or a bold single origin with a more developed roast profile.
---
Katia Duke's San Isidro farm is found in a dry and dusty area only a fifteen minute drive from the town of Ruinas de Copán in Copán Department, Honduras. The farm has been in Katia's family for generations, producing coffee in the traditional way and selling parchment to local intermediaries. She spent most of her youth on the farm before studying agronomy at the prestigious Zamorano Pan-American Agricultural School in San Antonio de Oriente, Francisco Morazán, Honduras. She had grown up dedicated to following the tradition of her parents and family, but the la roya leaf rust epidemic hit Honduras in 2012, destroying most of the crop that year. This blow to coffee production urged Katia to reassess their approach to farming, and change the way that she and her family would think about coffee.
Katia first had to better understand the specialty coffee industry. She took various courses and became a certified barista and roaster. She opened her own coffee shop, where she would roast and sell the coffee from her family's farm. The next step naturally became growing specialty coffee for export. After much discussion with her father, she was granted plots of land to farm as she saw fit. Now, five years later, these experiments have led to significant rewards.
The rewards of farming never come without struggle though, and Katia has had to work hard to see her plan come to fruition. Her first hurdle was to earn respect as a farmer, simply for being a woman. On her first day as a producer only two people, both women, showed up to work the farm with her—everyone else refused to work for a woman. Now, after years of hard work, Katia has developed a strong team at San Isidro built around the principle of mutual respect among everyone.
Katia has not only been able to achieve goals as a coffee producer and develop relationships with roasters, she has also been able to grow into being a leader in her community. The growth of San Isidro and the surrounding area has come hand-in-hand, with flagship projects like building a school and creating and supplying a nutritional program locally. These achievements have meant more than just creating resources though—they've proven that in a place that can be dominated by machismo and traditionally male leadership, a woman can succeed as a leader and use coffee as the vehicle to do so.
This lot of Catuai and Obatá coffee underwent Anaerobic Red Honey processing.
---
Want to try this coffee before you buy it? Order a Green or Roasted sample here.
Get to know Katia in our blog A Few Questions With... Katia Duke!
Region
Copán
Copán is one of the six major coffee growing regions in Honduras. In the northwest mountains of the country, along Honduras' border with Guatemala, coffee in Copán is grown on farms with elevation ranges from 1000–1500 meters above sea level. The annual precipitation in Copán is 1300-2300mm per year and the temperature ranges from 11.5–22.3° C.
Farms in Copán are shaded by the nitrogen-fixing Inga tree and various species of fruit and hardwood forest trees. The region has many national parks in its mountains, and coffee producers in Copán maintain harmony between the coffee plots and the natural environment.
Origin
Country

Honduras

Region

Copán

Producer

Katia Duke

Farm

San Isidro
Coffee specifications
Variety

Catuai, Obatá

Process

Anaerobic Red Honey

Elevation

1300 meters

Harvest

December–March
Coffee Category

Reserve Lot

Packaging

25 lb box with GrainPro liner

Certifications

N/A

Tasting Notes

Chocolate Fudge Brownie, Roasted Nuts, Honeysuckle