El Salvador Los Pirineos Pacamara Black Honey | 25 lb | A-3724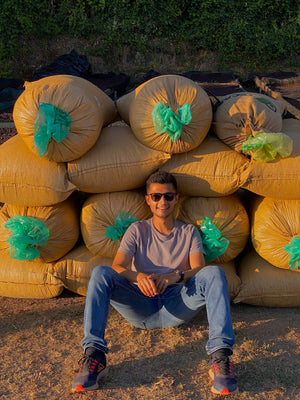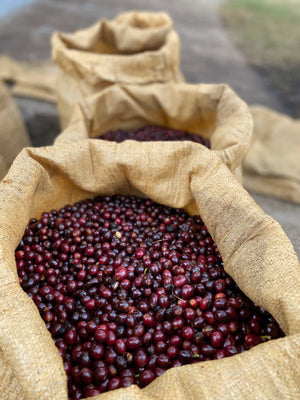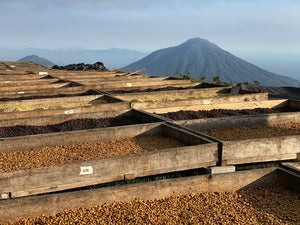 Product image 1
Product image 2
Product image 3

Product image 4
Product image 5

Product image 6
Save up to 30% on this coffee when you Buy More, Save More! Visit our Featured Lots collection for more details!

---
Found in the Usulután department of El Salvador, Los Pirineos farm is operated by fifth-generation coffee producer Diego Baraona. Diego took the helm at the farm in 2020 following his father's passing and now works to carry on the tradition and legacy of not only his father Gilberto, but the more than 130 years of experience, history, and knowledge that his family has in coffee cultivation.
The farm sits 1400 meters above sea level on the slopes of a stand-alone volcano. This unique positioning provides a microclimate unlike any other with sun-filled days and cool breezes, creating an environment ideal for coffee production, processing, and drying. This climate is capitalized on especially well in the drying area of the farm where raised drying beds are positioned between two peaks, creating a wind tunnel through which a breeze constantly flows. The beds are exposed to the sun for twelve hours per day while the temperature is regulated by the persistent wind, creating an ideal environment for producing Honey and Natural coffees.
Across Los Pirineos there are around 20 coffee varieties in production—including Rume Sudan, SL-28, Batian, and Gesha—though Pacamara and Bourbon are the staple coffees making up approximately 80% of the farm's volume. Along with the 20 varieties that are in production on the farm, Los Pirineos also keeps its own coffee variety garden and nursery containing approximately 70 different varieties of coffees. This work with varieties was a passion for Diego's father Gilberto, and is a passion that Diego intends to carry on into the future of the farm by continuing to grow and experiment.
While quality is certainly important at Los Pirineos, Diego keeps an eye toward environmental and social responsibility as well. All of the water used in production and processing of the coffee comes from collected rainwater. Bees are also kept here, both to produce honey and to contribute to the local ecosystem in a variety of ways. Diego employs around 60 people on the farm, and works to make sure that the people who harvest the coffee are also working on other projects on the farm year-round for consistent and sustainable work. All of the coffee at Los Pirineos is shade grown under trees planted by Diego's father Gilberto, which provide not only quality growing conditions for the coffee, but additional habitat space for local fauna.
This lot of Pacamara coffee underwent Black Honey processing. After harvest, ripe cherries are pulped and the mucilage is left intact. Pulped coffee is then spread in a thin layer on shaded raised drying beds. The shade slows the drying process compared to the other Honey processes used on the farm. Coffee is dried for approximately 25 days until it reaches ideal humidity.
Get to know more about Diego Baraona in our Q & A!

---
Want to try this coffee before you buy it? Order a Green or Roasted sample here.
Region
Usulután
The Cordillera Tecapa Chinameca stretches from West to East throughout the Usulután department on southern El Salvador's Pacific side. This mountain range is largely made up of volcanoes and is characterized by its stark contrast to the dry plains farther south. The peaks rise up to 1600 meters above sea level and provide ideal circumstances for both coffee growing and drying. Despite its elevation, there is minimal rainfall during the harvest period from December to April.
Coffee farming has a long-standing history in the region but has been plagued by political turmoil since the late 20th century. The region's roughly 3000 growers and processors produce 12% of the total supply of Salvadoran coffee, mainly of the Bourbon, Pacas, Pacamara, Catisic, Cuscatleco, and Catuaí varieties. Although Usulután is responsible for a relatively small portion of the national production, the mountains of Tecapa Chinameca are recognized for the quality coffee they produce due to their unique position near the ocean, excellent elevation, and volcanic soils rich with organic material and nutrients.
Origin
Country

El Salvador

Region

Usulután

Producer

Diego Baraona

Farm

Los Pirineos
Coffee specifications
Variety

Pacamara

Process

Black Honey

Elevation

1400 meters

Harvest

December–April
Coffee Category

Reserve Lot

Packaging

25 lb box with GrainPro liner

Certifications

N/A

Tasting Notes

Milk Chocolate, Cranberry, Pecan, Pomegranate