Colombia Galeras Decaf | 25 lb | A-4501
Product image 1
Product image 2
Product image 3
Product image 4
Product image 5
Product image 6
Product image 7
The town of Buesaco lies high on a ridge in the Andes Mountains of the Nariño department in Colombia. Promotora Cafe de Altura has its offices, cupping lab, and warehouses here, where the coop collects coffees from smallholders whose farms are tucked into the slopes surrounding the town. The cooperative works with more than 300 smallholders farmers all over the Nariño department who generally harvest coffee all year around. Here at the co-op's facilities, lots are analyzed and purchased, and the farmers are paid premiums on top of the market price. These premiums incentivize high quality standards and good agricultural practices, like avoiding the usage of glyphosate and other chemicals.
Promotora Cafe de Altura cups coffees throughout harvest delivery to build lots that are uniform and consistent in bean size and cup profile. This lot of decaffeinated coffee in particular consists of small batches of beans from farms around the Galeras Volcano. This coffee was decaffeinated using the Ethyl Acetate (EA) decaffeination process.
Ethyl acetate is produced by esterification between ethyl alcohol, which is derived from the fermentation of sugar cane, and acetic acid. The green coffee is submerged in a wash of water and ethyl acetate, during which the ethyl acetate bonds with the caffeine in the coffee and begins to extract it from the green seeds. The EA solution is flushed and the process is repeated until reaching a minimum decaffeination level of 97%. Finally, the green coffee is steamed to remove any remaining ethyl acetate from the seeds.


---
Want to try this coffee before you buy it? Order a Green or Roasted sample here.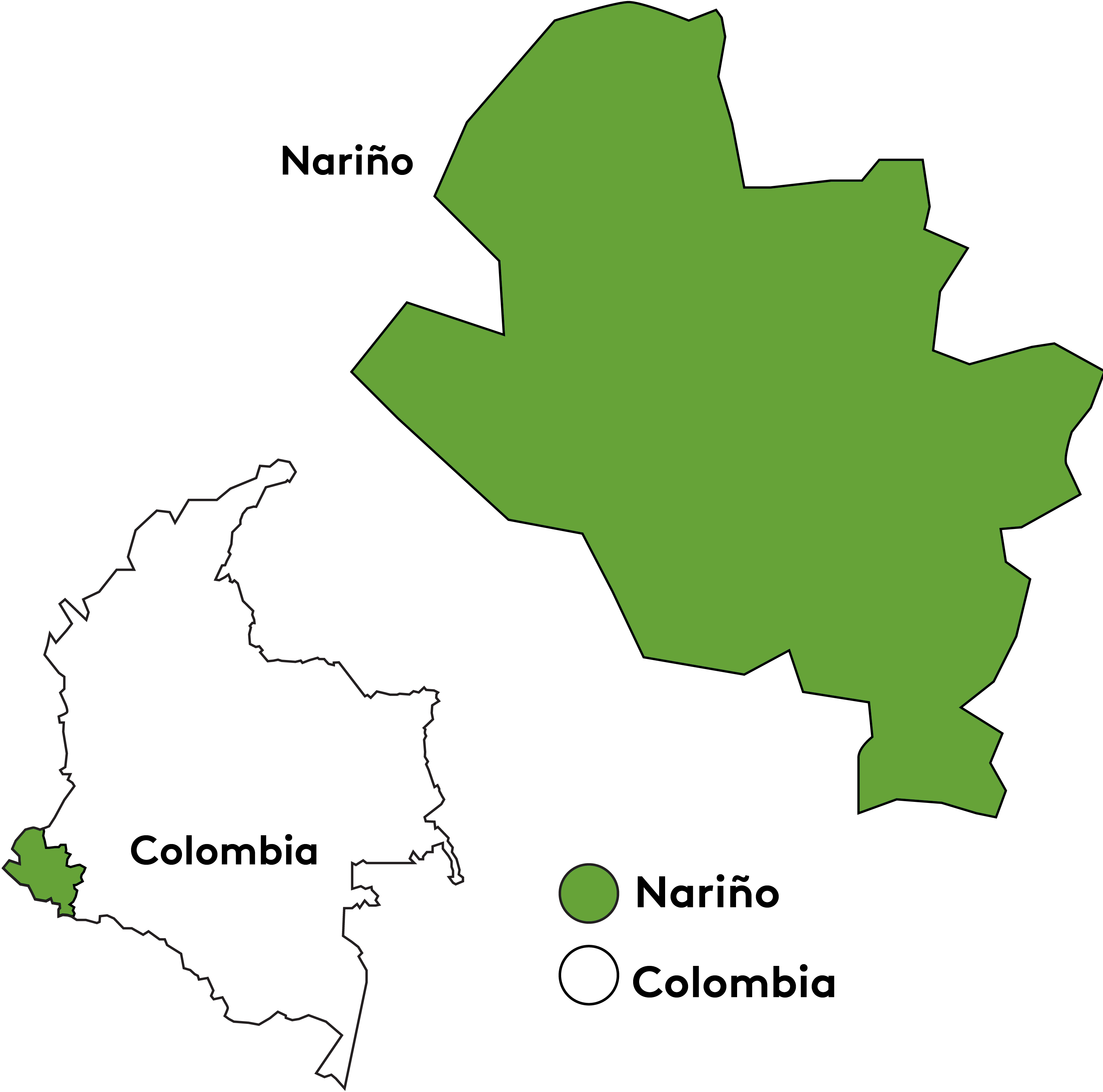 Region
Nariño
Nariño is one of Colombia's 32 Departments. It shares a southern border with Ecuador and is home to thousands of smallholder coffee producing families. Colombia's three ranges of Andean mountains converge in Nariño, presenting ideal altitudes and fertile soil for high grown Arabica production.
Nariño's particular geography and proximity to coastal and land borders have historically transformed it into corridors for illicit trade routes, resulting in unwarranted violence against residents of remote mountain farms. Today, thanks to the particularly resilient and fearless spirit of Nariño's farmers, the small region is a respected nucleus of coffee innovation.
Origin
Country

Colombia

Region

Nariño

Producer

Smallholder Producers; Promotora Cafe de Altura

Farm

Smallholder Farms
Coffee specifications
Variety

Caturra, Castillo, Colombia

Process

Washed; EA Decaf

Elevation

1850 meters

Harvest

Year-round
Coffee Category

Microlot

Packaging

25 lb box with GrainPro liner

Certifications

N/A

Tasting Notes

Brown Sugar, Roasted Hazelnut, Citrus